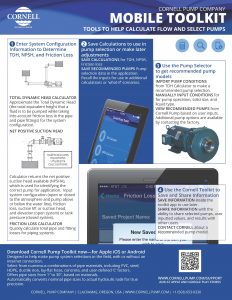 Cornell Pump has a mobile app to help calculate system flow and select pumps. Powerful, with detailed pump curves and pump recommendations, the mobile app can be used to calculate:
Total Dynamic Head
Net Positive Suction Head
Friction Loss
As well as
Save and share your calculations
Suggest pumps from Cornell's robust and efficient catalog to meet your system needs.
Cornell Mobile Tool Kit is a free app for Android or Apple iOS. It's usable on tablets and phones, without the need to be connected to the internet. Conduct calculations and checks in the field. Useful for project managers, engineers, operators, mechanics, and distributors in agricultural, industrial, municipal, mining, and rental applications.
Download for apple here
And Android here