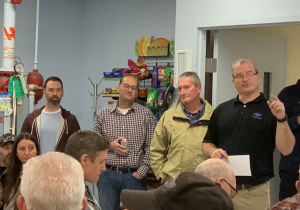 Cornell Pump employees sat down together to celebrate Thanksgiving 2019 on Thursday November 21. All enjoyed Southern BBQ, including smoked beef brisket, BBQ'ed chicken, and pulled pork heaped on plates along with BBQ beans, coleslaw, and finished up with pecan and pumpkin pies. We're thankful to work for an industry-leading company, thankful for great distributors and customers, and thankful we can all pull together every day to make the best centrifugal pumps in the world. We'll be closed Thursday and Friday, November 28 and 29, 2019, in order to celebrate Thanksgiving with our friends and families.
At the meeting, new employees (more than 10 hired in the last quarter) were introduced. If you'd like to be part of Cornell Pump, please look at our employment information.  We continue to expand, and are looking for talented and motivated employees across many disciplines.
We hope you have a great Thanksgiving!